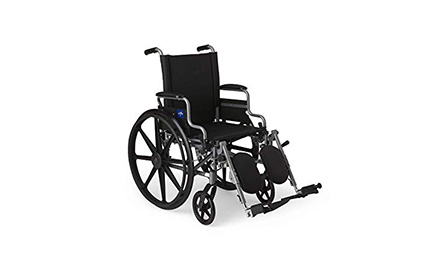 Don't you think Wheelchair Rental Toronto is a more sensible solution if you need a wheelchair rental for a few days or weeks?
Even if you regularly use a wheelchair, you may need a particular type of wheelchair rental for a specific event. For example, you can't carry your standard wheelchair with you while traveling to a distant location. Similarly, you can't bring a standard wheelchair to the events where you need to use stairs. You can't purchase a new wheelchair every time you go to an event, can you?
The wheelchairs are really expensive and there is no point in purchasing one when you can get a wheelchair for rent. It doesn't only save money but it also helps with eliminating the headache you have to bear once you're done using the wheelchair rental. We offer different models of wheelchairs on rent that can help you in different situations.
Here, we're going to highlight the details you need to understand when choosing wheelchair rental Toronto. So, without any further ado, let's jump right into the details.
Wheelchair Rental Toronto Vs Buying a Wheelchair
Wheelchair rental Toronto is a more suitable option when you need a wheelchair rental for a limited period of time. But we aren't saying that buying a wheelchair is a completely useless approach. Both have their own advantages and disadvantages. But we believe one needs to look for a rental service when they need a wheelchair rental for a specific event or for a few days. Let's compare the advantages and disadvantages of both types of options so you may choose an appropriate one.
Wheelchair Rental
There are many different types of wheelchairs available these days (will share details later in this article). If you're willing to get the most basic type of wheelchair rental, there is nothing wrong with buying one because it may cost around $500. But you need to understand that it doesn't offer the comfort you can get with a high-quality wheelchair. And a high-quality wheelchair may cost around $1000 to $2000.
You must be saying to yourself that it's not that big of an amount. I can easily bear that. But did we tell you that these prices are only for manual chairs? And the manual chairs don't offer the features you can get with powered chairs. The prices of powered chairs are really high. Their prices start from $2000 and can go up to 30,000. And that's a lot of money. A layman can't easily afford to buy such an expensive option. This is where Wheelchair Rental Toronto appears to be helpful.
Now, don't get confused if you don't understand the difference between manual wheelchairs and powered chairs because we'll describe these details later on. The only purpose of sharing this information is to show you how expensive wheelchairs can be. It's also worth knowing that buying a wheelchair is a better option for those who need some customizations because the rental services don't offer any such benefits.
But you must keep in mind that the prices drastically increase when you get the wheelchair customized according to your requirements.
Wheelchair Rental Toronto
Wheelchair Rental can be a better option for those who need a wheelchair for a few days or maybe a few weeks. Similarly, some people only need a wheelchair rental for a particular event such as going for a visit to the zoo or traveling to a distant location. You can't carry a standard wheelchair with you all the time. In fact, the expenses of carrying a wheelchair with you while traveling can be very high.
Therefore, wheelchair rental is the best option you can use in these conditions. A one-day rental facility is a perfect option for those who need a wheelchair rental for a day or two. Wheelchair rental isn't just about saving money but it also offers an opportunity to test different models of wheelchairs. Let's say you're willing to buy a wheelchair for the long term but don't know which type of wheelchair rental can be best for you.
In this situation, you can use different models of wheelchairs through wheelchair rental Toronto. Later on, you can decide which type of wheelchair can best suit your needs. As we've mentioned, wheelchairs can be really expensive based on the type you're choosing. Therefore, it's recommended that you test your desired model for a few days before making this investment.
Furthermore, you won't have to worry about maintenance and insurance costs because the rental facility is responsible for managing these aspects. Normally, the insurance companies only cover 40-60% cost when you purchase a wheelchair. And they have certain conditions for that. But when you use a rental facility, you don't need to convince the insurance company because the rental facility will deal with the insurance company on your behalf.
Things to Consider When Choosing a Wheelchair Rental
Hopefully, you've now made up your mind about choosing a wheelchair rental. We should now talk about things you must consider when choosing wheelchair rental Toronto.
Understand the Types of Wheelchairs
As we've mentioned, there are different types of wheelchairs that can be helpful for people going through different conditions. So, let's dive into the details now.
Manual Wheelchairs
Manual Wheelchairs are the most affordable options available. These wheelchairs are pretty simple and lightweight. They're highly maneuverable and can be used in many different situations. The best thing about these wheelchairs is that they can easily fit into your car's trunk. So, if you're visiting a nearby location, you won't have to worry about choosing a different model.
These wheelchairs give you the freedom to move the chair by yourself. And if you have a companion with you, they can also help you out. You won't feel any discomfort while riding this wheelchair rental because it comes with adjustable footrests. As compared to powered chairs, the manual wheelchairs are pretty lightweight but it doesn't mean they can break easily. These wheelchairs have a strong and sturdy construction. So, you won't have to worry about any such accidents.
You can simply fold the wheelchair rental by pressing the armrests together. Thus, you won't face any trouble storing the chair. With a weight capacity of up to 350 lbs, these wheelchairs offer a smooth and comfortable ride.
Transport Wheelchair Rental
As the name suggests, transport chairs are perfectly suitable for transportation and convenient storage. These wheelchairs are equipped with padded armrests that can provide amazing comfort during a ride. Unlike standard wheelchairs, these wheelchairs can't be self-propelled because they have small wheels. So, you'd have to travel with a caregiver while using this chair.
The caregiver can apply the rear wheel locks if they need to do something or engage in something else. These wheelchairs provide a smooth and comfortable ride on most surfaces because they have small, maintenance-free wheels. They have a lightweight yet strong construction and they easily handle up to 250 lbs. You might also have to grab some additional accessories along with the wheelchair.
But don't worry because we have these accessories available at the store. So, if you need any of the accessories, we'll instantly fulfill your needs.
HD Wheelchair Rental
HD Wheelchairs are just an upgraded version of manual wheelchairs. These wheelchairs are designed to handle more weight capacity. The rest of the features are almost the same. The user can either drive the wheelchair rental on his own or they can use a companion's help to move around. Although they're a bit big in size, they can easily fit in your vehicle when you fold them.
As compared to powered wheelchairs, these wheelchairs are also lightweight. So, you won't face any problem riding the wheelchair. We recommend choosing Gel Cushion along with the wheelchair rental as it ensures your comfort throughout the time. Moreover, you can choose a cupholder and other important accessories to spend a better time.
Powered Chairs
Powered Chairs are bulkier than standard chairs because they're operated with a motor installed within the chair. However, you won't have to worry about pushing the chair because you can control its movement using a joystick installed on one of the armrests. These wheelchairs can be used indoors and outdoors. But we recommend using the wheelchair only indoors because they have a very tight turning radius.
These chairs are usually recommended for those who don't have the strength to move a manual chair and don't have a companion to carry them around. You must have already figured out that the powered chairs are more expensive than the standard wheelchairs because they have some advanced features. It's also worth knowing that the powered chairs are high maintenance that's why wheelchair rental Toronto can be the best option for those who need a powered wheelchair.
Comfort and Functionality
Comfort and Functionality must be your major concerns because you can easily start feeling tired if the wheelchair rental doesn't meet the requirements. Sometimes, the grip on the rear wheels isn't quite effective due to which you face problems with moving the chair. Moreover, you'd have to face health issues like back pain and neck pain if the chair isn't comfortable enough.
We recommend taking the wheelchair out for a ride to make sure that it functions properly. And if you're taking a ride in a powered wheelchair rental, make sure that you check the batteries before leaving the store otherwise, you'd be stuck on the road.
Look for Damages
The wheelchair rental remains under the use of different types of people. The rental services carry out detailed inspections whenever they get the wheelchair rental back from a user. And before they put it back on the display, they get all the damages fixed. However, you must look for damages to ensure your safety. And make sure that all the features of the wheelchair are working appropriately.
Exchange Options
Even if you've conducted enough research about wheelchairs, there is still a chance of choosing the wrong option. In this situation, you can get another model that seems to be better. But it's only possible if the service provider offers an exchange for free of charge. Some rental services charge an additional fee for exchanging a wheelchair rental due to which the users are bound the use the same chair even if they've made a wrong choice.
Here at Wheelchair Rental Toronto, we understand that customers can often make a mistake while choosing a wheelchair. Therefore, we provide a free exchange offer to facilitate customers in these conditions.
Why Choose Us?
Now that you've understood some important aspects of wheelchairs, you may be concerned about why you should choose Wheelchair Rental Toronto when there are service providers available.
Well, Wheelchair Rental Toronto is a trustworthy and reliable business serving the residents of Toronto for years. We've always focused on providing top-quality products to the customers so they may easily go through these tough conditions. We have a team of experts that is always ready to help you if you're facing any problem with the wheelchair rental. You can get a free, no-obligation quote by giving us a call or by sending us an Email.
Our representative will help you with choosing the model that can be more suitable for your situation. So, feel free to get in touch with Wheelchair Rental Toronto and give us a chance to serve you during your tough times.